Ohio State uses FanConnect Touch with IPTV for new loge area
The Ohio State University Buckeyes opened their football season at Ohio Stadium to new premium seating areas including loge boxes outfitted with FanConnect's Touch tablet solution. The Shoe, and its 102,780 seats, is one of the most recognizable landmarks in all of college athletics.
FanConnect has been a technology provider at Ohio State since 2012 - powering 1000+ screens at Ohio Stadium and The Schottenstein Center using several of FanConnect's venue solutions. As a trusted partner, Ohio State approached FanConnect to deliver a mobile tablet solution for its newly announced premium loge area.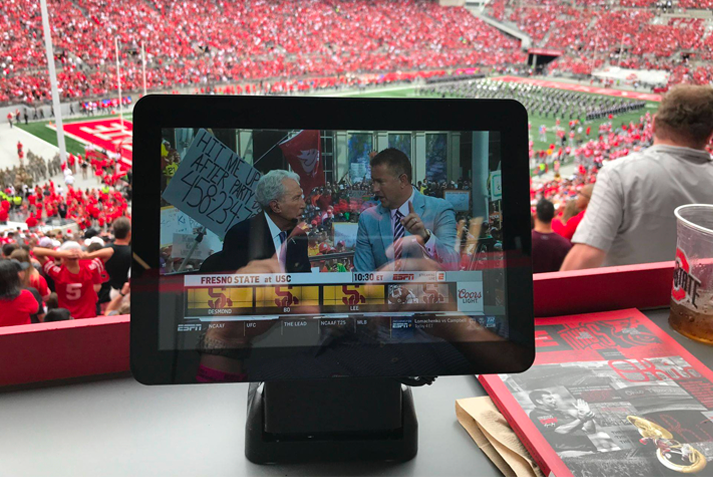 FanConnect Loge at the Horseshoe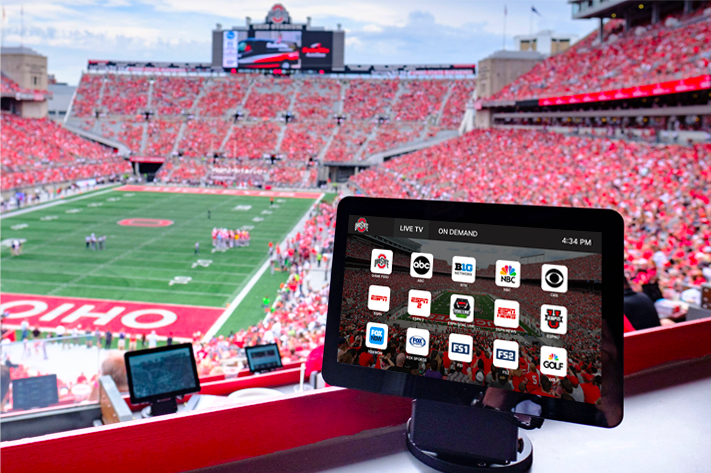 FanConnect Loge at the Horseshoe
With a simple intuitive interface, fans simply swipe and tap for TV channels (IPTV), real-time stats, fantasy data, scores, and standings. They can page an attendant, view social media, or watch the live game feed. Alec Fink, FanConnect COO, says "FanConnect Touch provides fans with a personalized visual experience that compliments the many amenities of the luxury loge box". "This is a great addition to our partnership at Ohio State, where we continue to power most of the screens at the Horseshoe and the Schott with FanConnect technology."
About FanConnect
FanConnect, a Charlotte, NC based company, provides leading-edge technology to create and distribute automated, engaging content to stadium fans over IPTV or RF infrastructure. Installed in over 60 top college and professional venues, our unique platform allows venues to enhance the fan experience, maximize sponsorship revenue, and increase brand exposure. To learn more about FanConnect, please visit fanconnect.tv or contact sales@fanconnect.tv.