College Football
Find out why so many colleges trust us on game day






Why do so many college teams rely on FanConnect on game day?
Since 2009 we have helped athletic departments make better game day experiences and help their sponsorship partners increase revenue with great inventory. We know how demanding working with colleges can be - from the video distribution and technical needs, to the needs of athletic department marketing, to working with sponsorship partners.
Give your fans the game day experience they deserve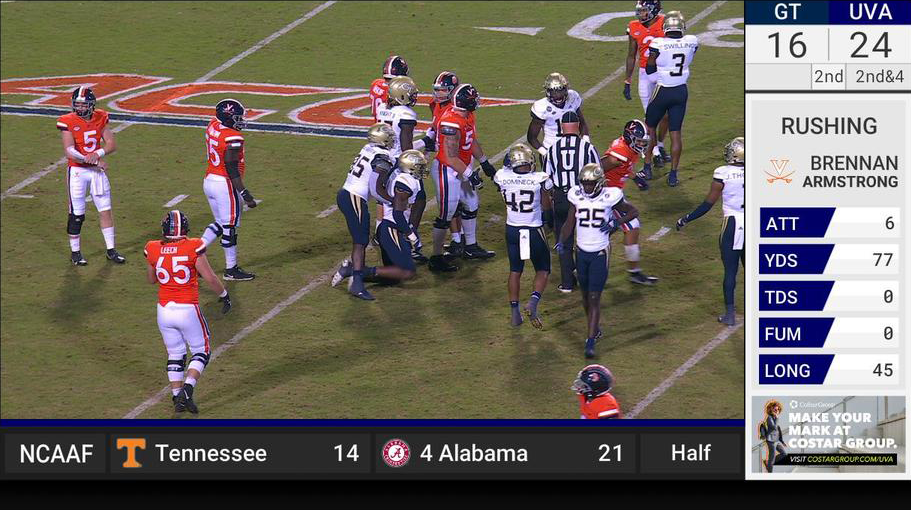 FanConnect TV
Automated game day program for every TV in your stadium.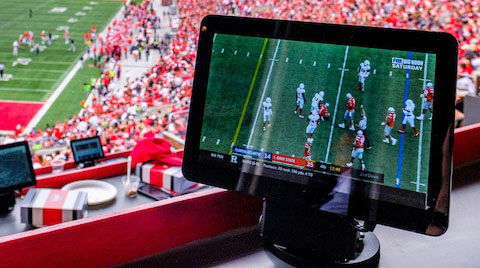 FanConnect Touch
IPTV tablet built for loge and premium seating.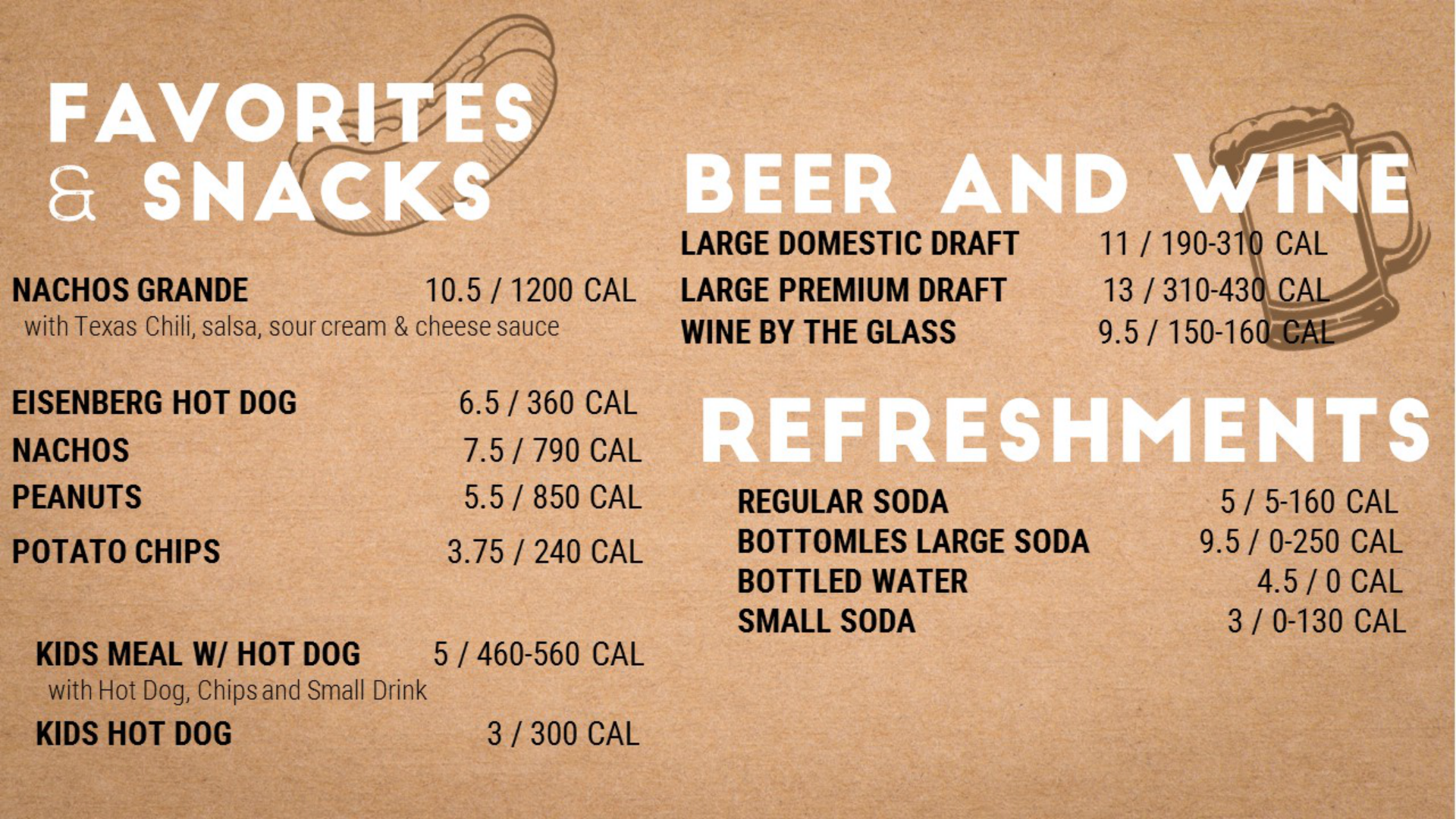 FanConnect Signage
Effective and engaging digital signage for your stadium.
FanConnect TV
Live video with dynamic content for an engaging fan experience
An automated game day program for every TV in your stadium
It starts an hour before the game with a full screen pre-game show. Fans see professionally produced content, from starting lineups to position matchups and more. When the game starts your TVs automatically switch to in-game L wrap with live stats, scoreboard integration and an intelligent crawl. Halftime brings more great content and after the game the post-game show will play as fans exit your stadium.
Learn more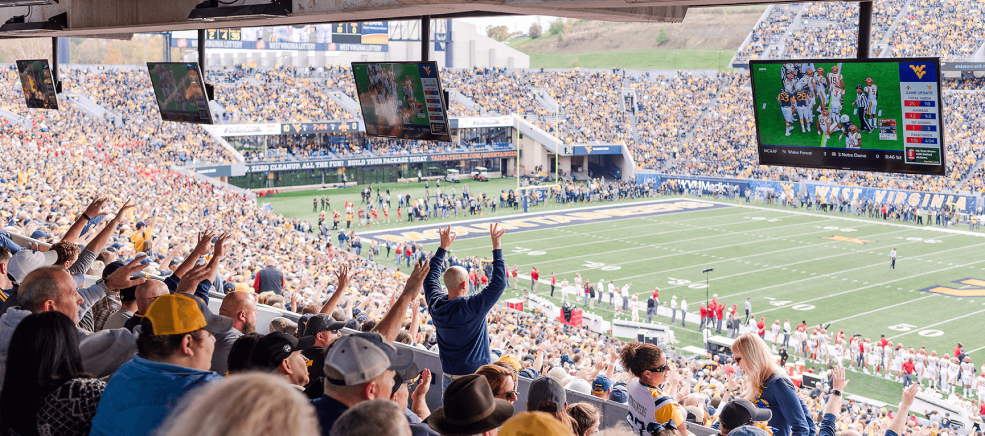 FanConnect TV on display at Milan Pusker Stadium
Engaging Content
Designed specifically to drive fan engagement and increase sponsorship revenue.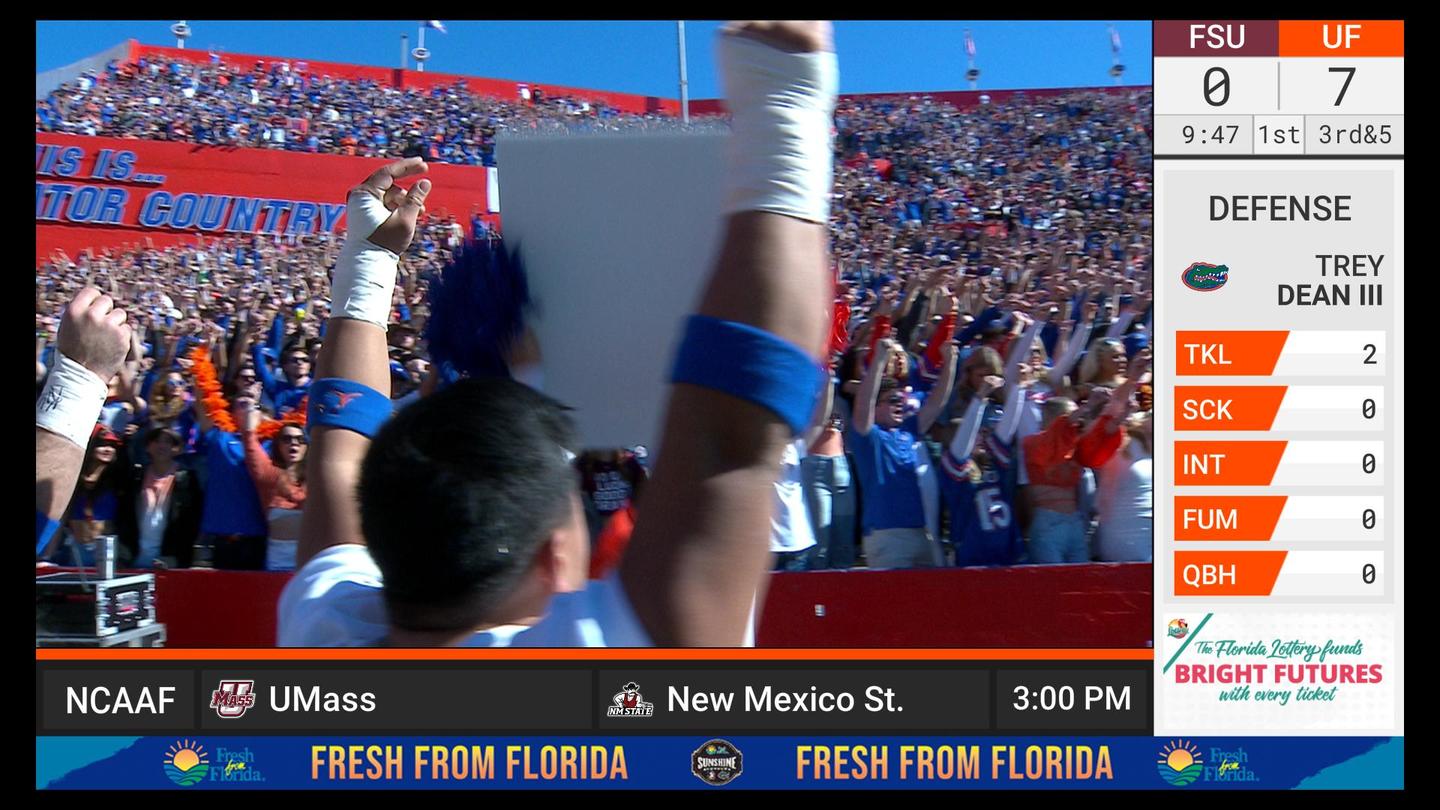 Offense and Defense Stats
Presentation
L-wrap
In-game
Team and individual stats for offense, defense and special teams.
Sponsor Assets
Med. rectangle
10 sec. preroll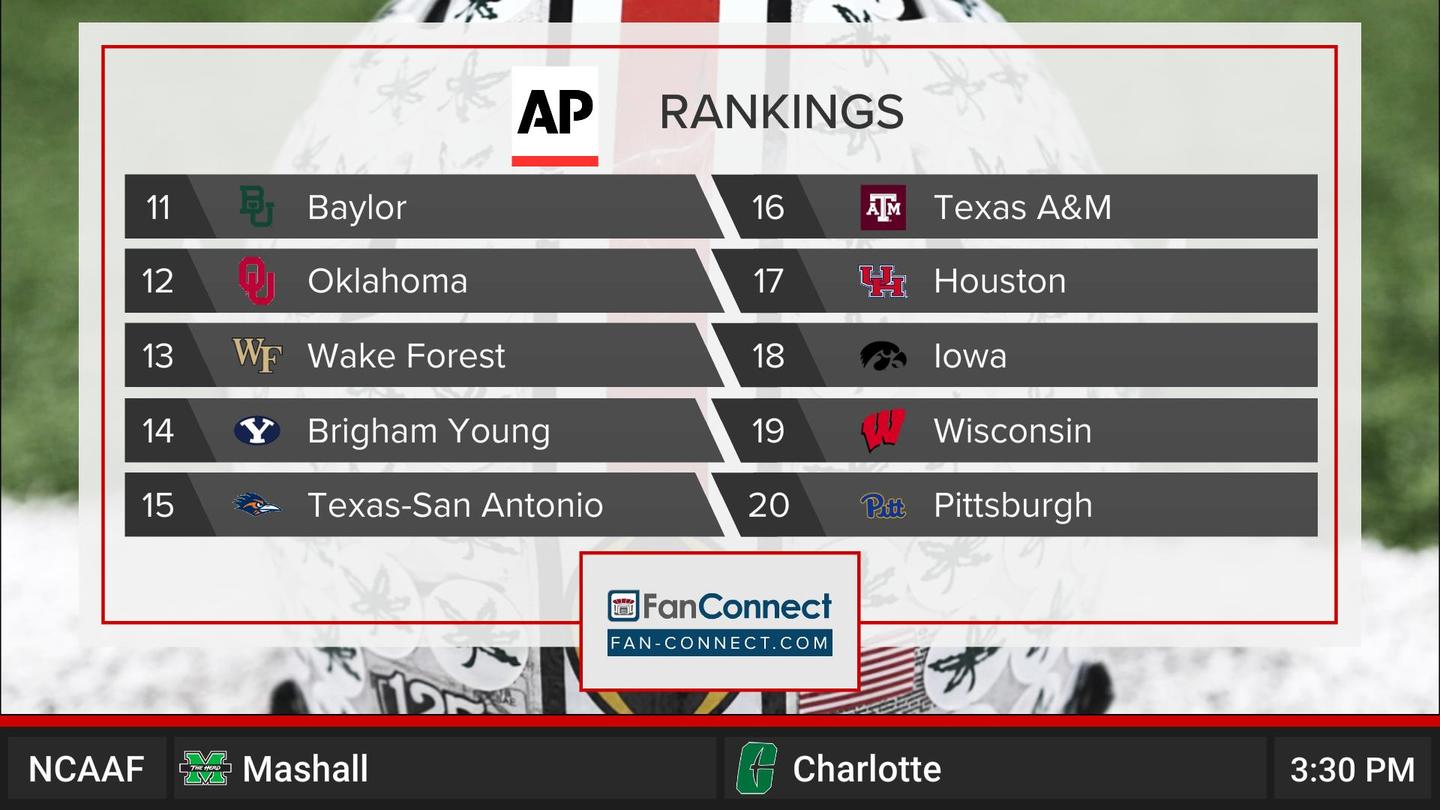 Rankings
Presentation
Full-screen
L-wrap
Entire Program
Rankings and standings, including divisional, conference, and league. L-wrap not shown.
Sponsor Assets
Med. rectangle
10 sec. preroll
30 sec. video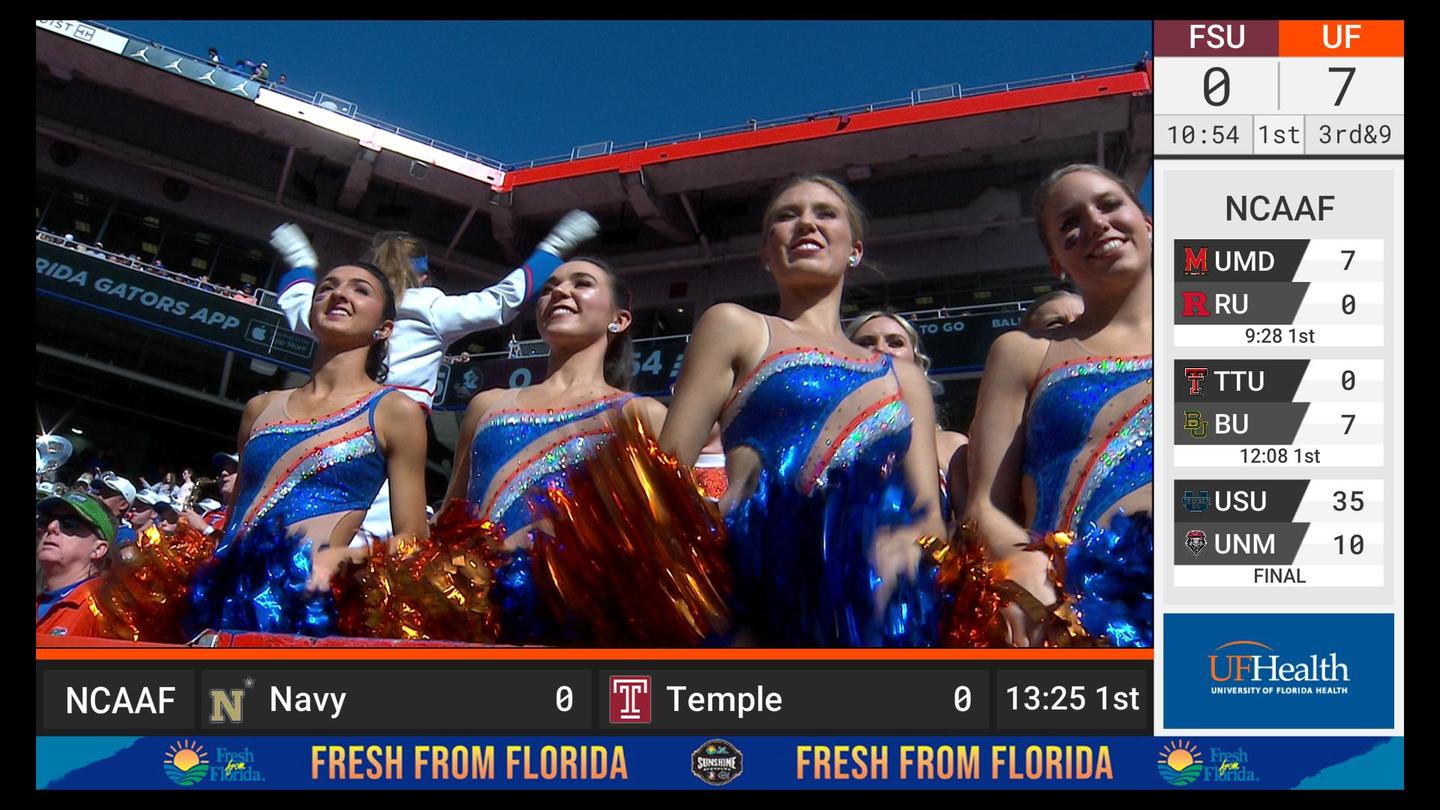 Around the League Scores
Presentation
L-wrap
In-game
Scores from NCAA football games in progress.
Sponsor Assets
Med. rectangle
10 sec. preroll
Learn more
Great incremental sponsorship inventory. Less work.
You don't have to sell sponsorships on FanConnect TV. But we make it easy if you want to.
Sponsorship Partner
We probably already work with your sponsorship partner. Whether you use Learfield, Playfly, or someone else we can fit into your existing sponsor ecosystem.
Content Packages
Exclusive content packages already bundled for sale. From the [Brand] Starting Lineup to the [Brand] Postgame Recap we make it easy for you to get incremental revenue, not just "bundle it in".
Engaging Content
Fans actually see our inventory. It's not just some ad in an L wrap - your sponsor assets are integrated into engaging content fans love.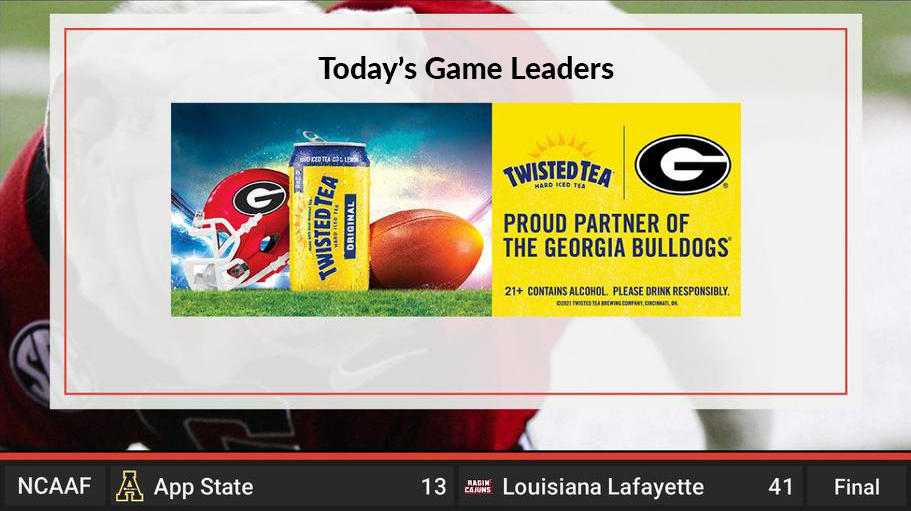 Integrated pre-roll ad plays before a 30 second commercial before the game, at halftime, and after the game.

Integrations & Technology
FanConnect TV fits right into your existing stadium infrastructure.
Game Stats
Integrates easily with Stat Crew software to display game stats.
Scoreboard and Clock
Integrates with Daktronics All Sport 5000, Whiteway and others to display real-time scoreboard and clock data.
Live Game Distribution
Works with your existing RF (HD) distribution or IPTV. For RF we simply create an additional cable channel.
FanConnect Touch
Purpose built to enhance your premium seating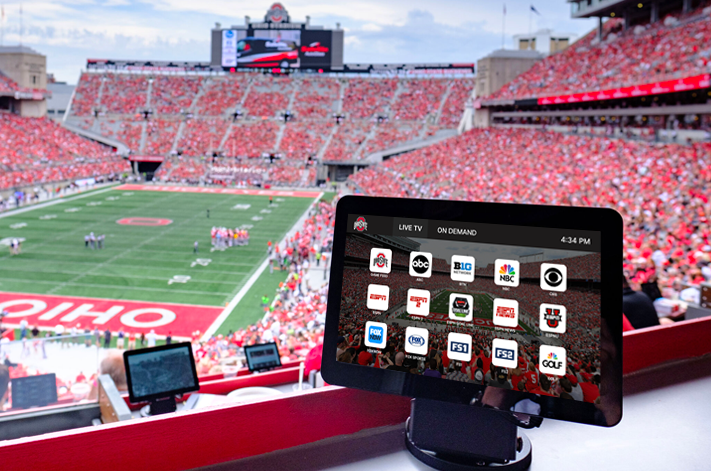 FanConnect Touch provides fans at Ohio Stadium with IPTV channels, live in-game stats, social media integrations, and more.
Engaging Sports Content
In-game stats, scores from around the league, fantasy data, game odds and more. FanConnect Touch has content your fans will enjoy.
IPTV Enabled
Fans can tune into your live game feeds as well as watch live TV of other sports and games. FanConnect Touch supports channel switching at the click of a button.
Sponsorship Capable
FanConnect Touch also supports sponsorships so you can provide your sponsors with additional branding opportunities on game day.
Request Demo
Learn more
Apps
Live game feed and IPTV are just the start. FanConnect Touch keeps college football fans informed and fully engaged with your team, game and stadium.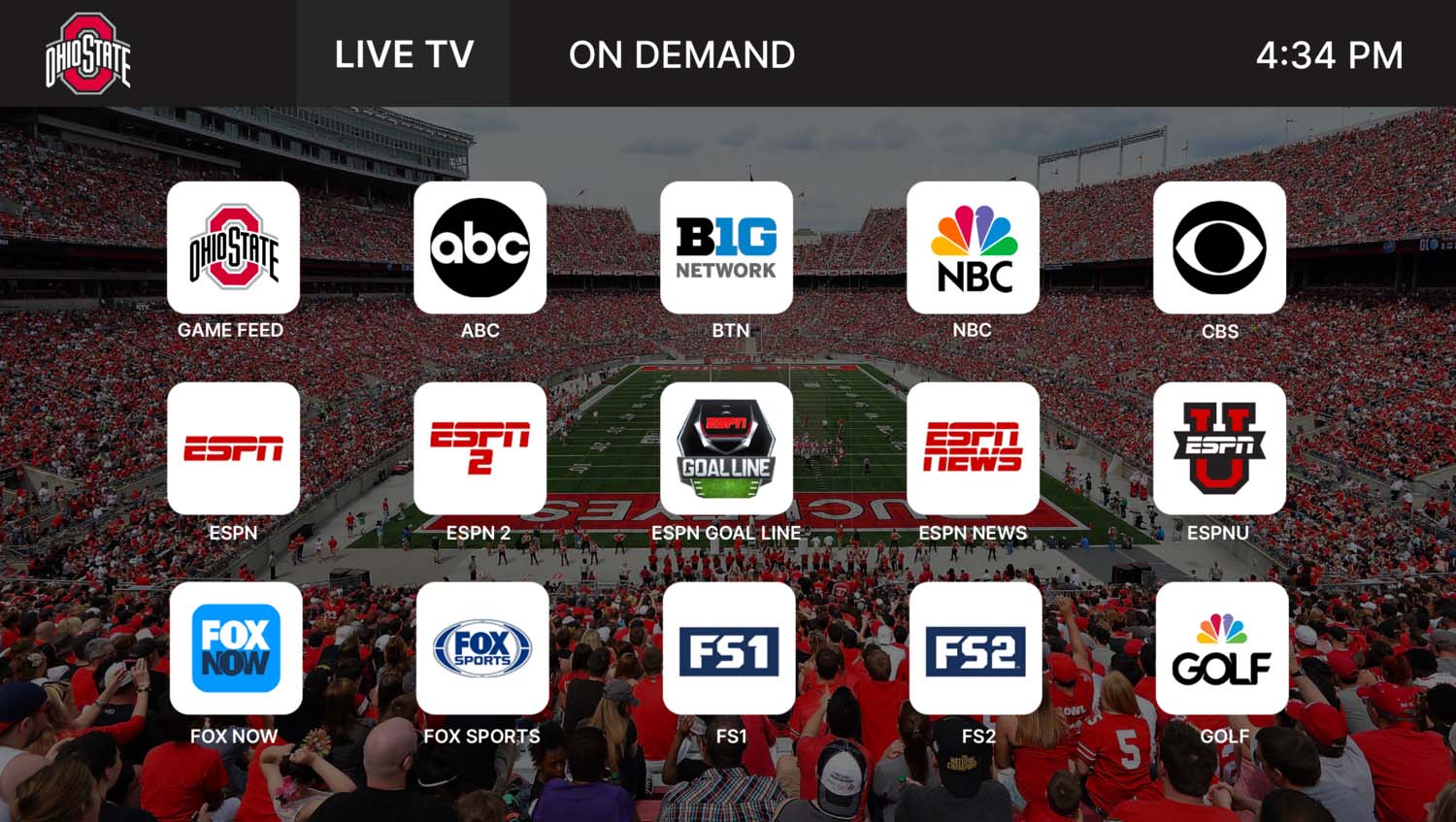 IPTV
Your fans won't miss any out-of-town games they need to keep tabs on with our fast channel switching and low-latency in-venue game feed.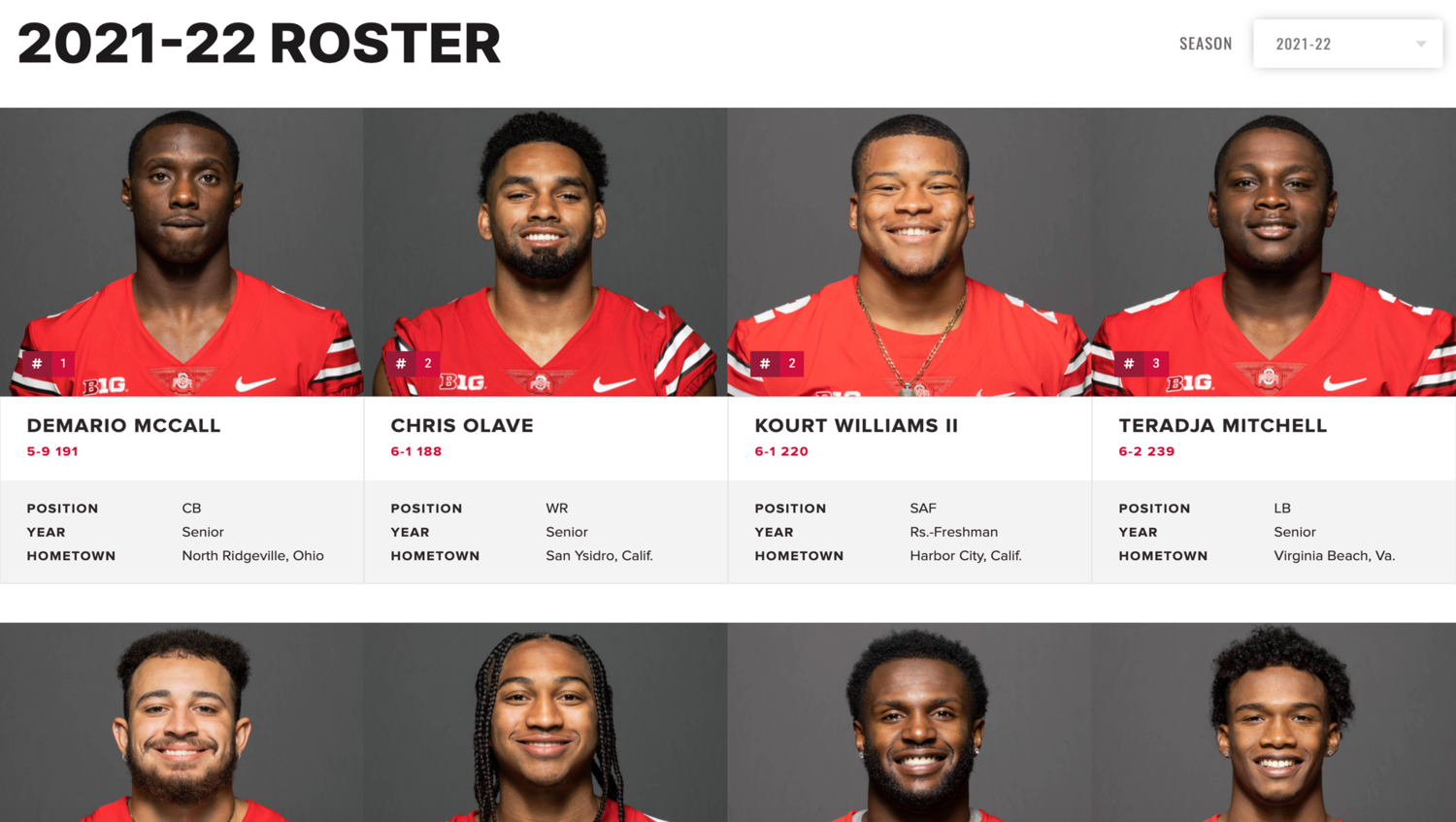 Roster & Individual Stats
Fans can follow along and easily see rosters, starting lineup and individual stats including game, season and career stats.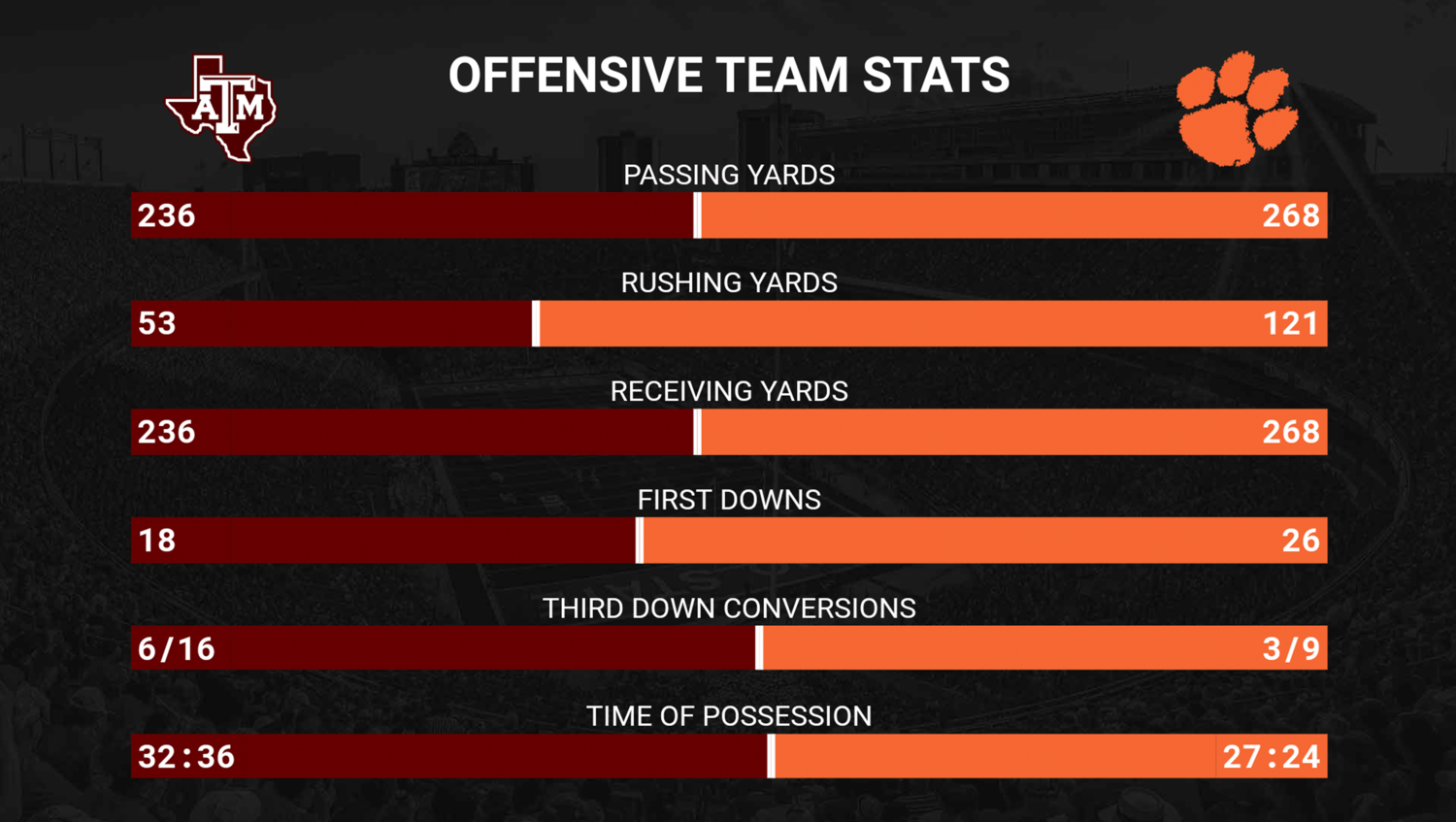 Team Stats
Offensive and defensive team stats, special teams and more allow fans to understand how the game is progressing.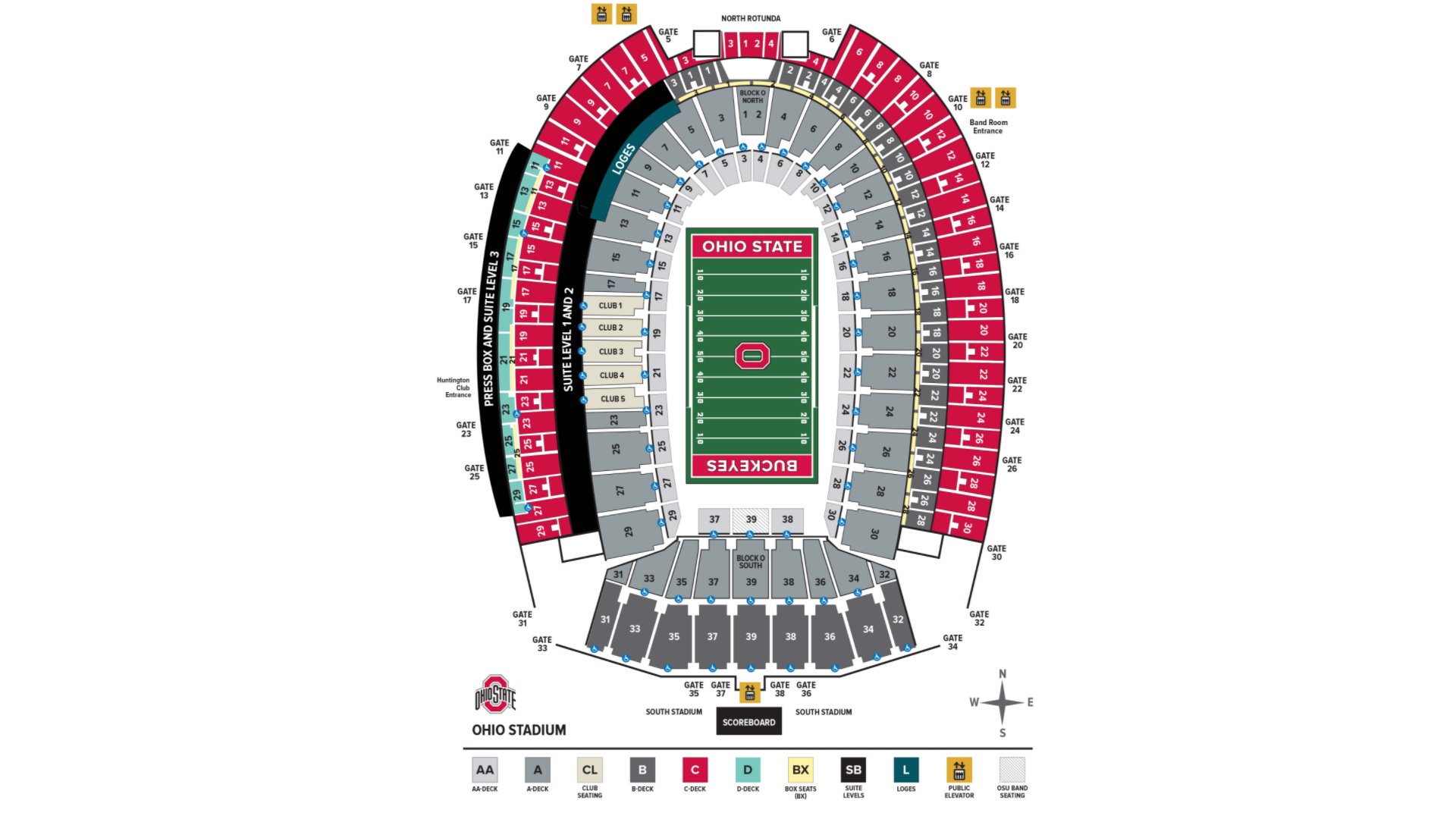 Venue Information
Venue maps, parking information, safety information and more at your fans fingertips.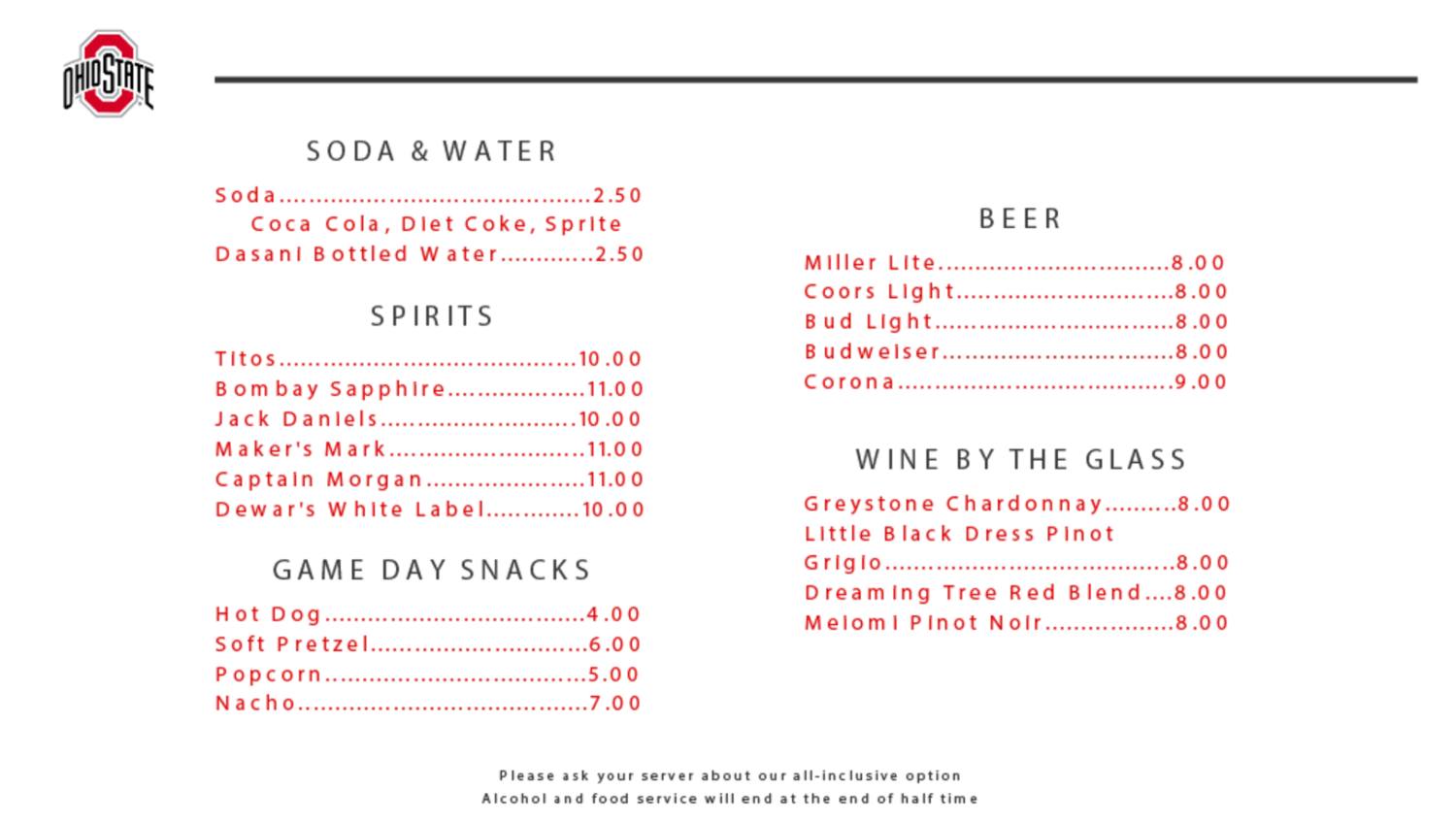 Food & Beverages
Integrated ordering tied into your POS systems mean fans don't miss any of the action.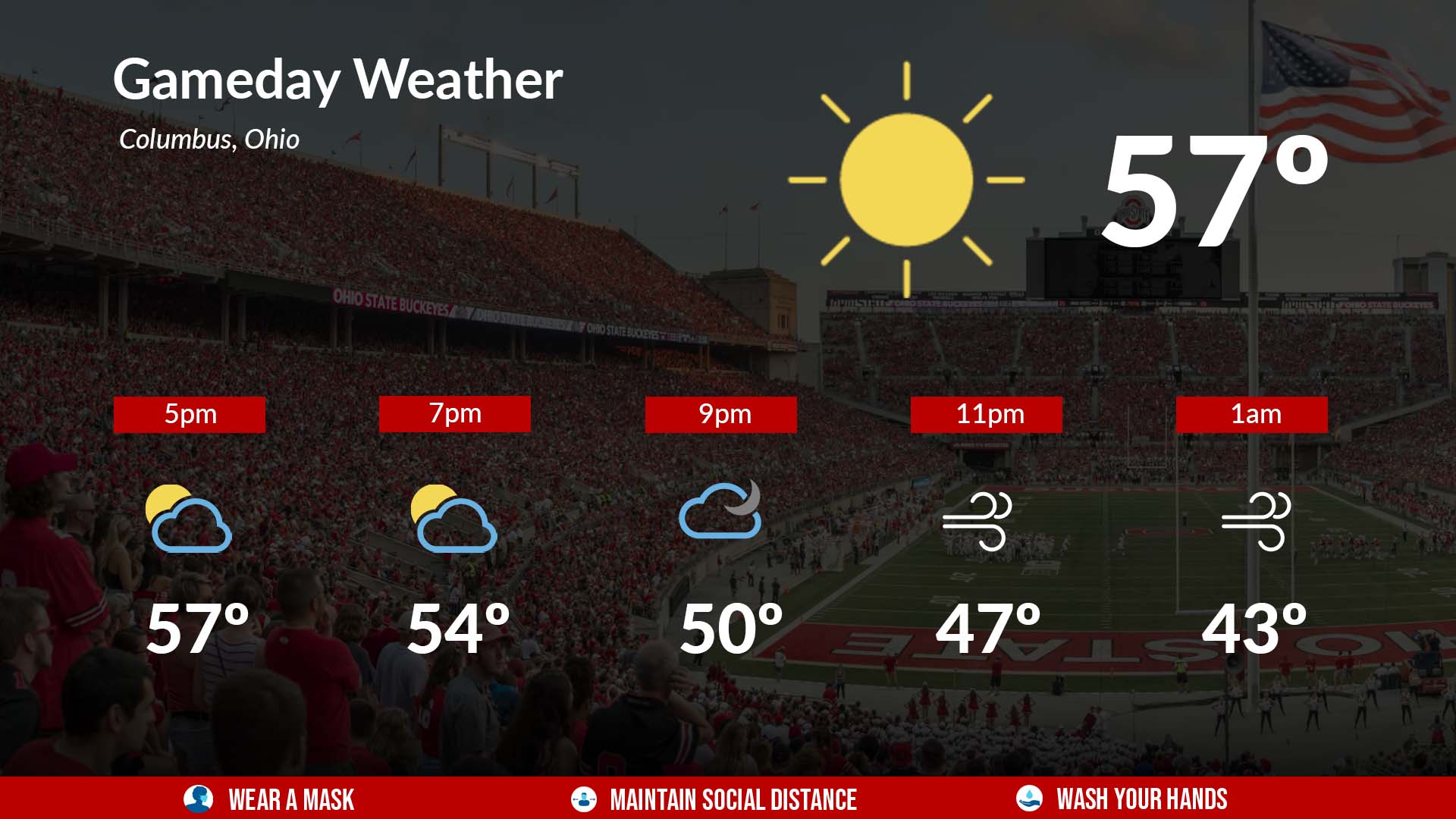 Game Day Weather
Includes short-term weather forecast and radar so fans aren't surprised by the weather.
FanConnect Signage
Effective and engaging digital signage for your venue
In concessions, concourses, and anywhere you want to influence your fans. Whether you are promoting your athletic department, sponsors or concessions we can help you get the message out.
Easy Management
A simple web interface allows you to easily change content while preserving your branding.
Engaging Content
From dynamic feeds to live video and animations -- our platform is flexible to meet your needs.
Flexible Integrations
Incorporate scoreboard, ticker, and POS for an integrated experience.
Learn more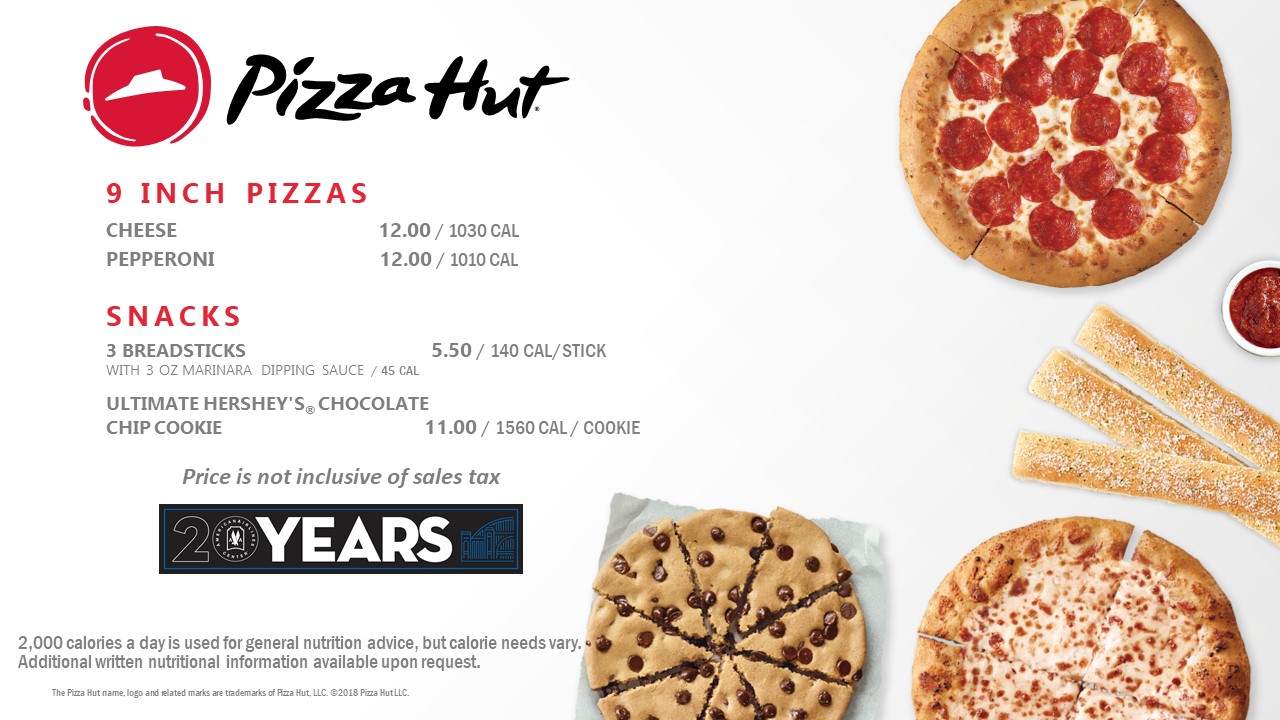 FanConnect Signage concession example